Our standard balloon rides are from 6.000 up to 10.000 feet !!!
The highest flights in Europe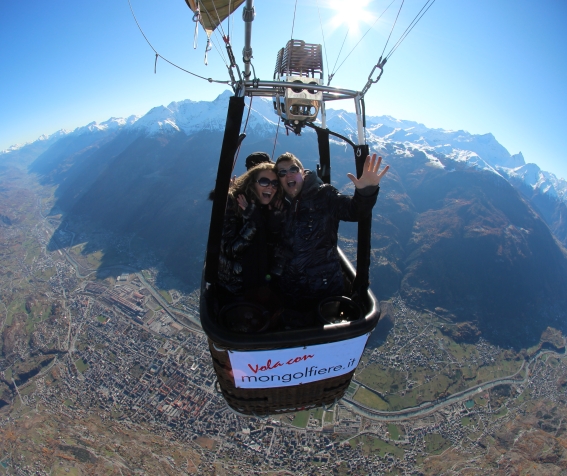 BALLOON RIDE IN THE ALPS (AOSTA VALLEY)
Fly above the mountains of the Aosta Valley. Charbonnier Mongolfiere Snc is available to offe
r those who wish
to try, the unique feeling of flying in a balloon in the Aosta Valley (situated in the North-West of Italy, close to Switzerland and France).
Anniversaries, birthdays, surprises, there's nothing more fascinating than a flight in a hot-air balloon. Our club offers more than just a simple flight, we offer you the opportunity to see the highest mountains in Europe (Monte Bianco, Monte Rosa, Cervino, Gran Paradiso) all from a different view point.
View from here our photo gallery
WINTER VIDEO IN AOSTA:
DECEMBER
-
FEBRUARY
SUMMER VIDEO IN AOSTA:
http://www.youtube.com/watch?v=h2CrjivFdkQ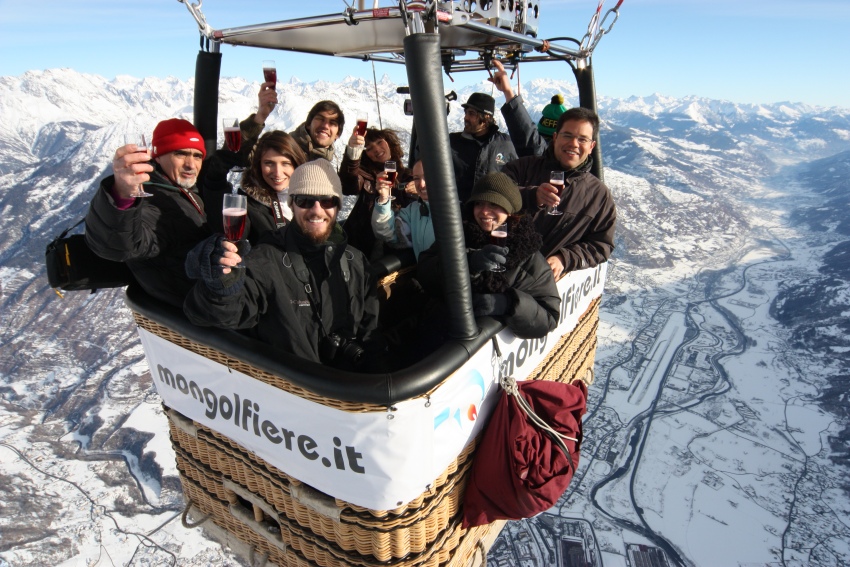 BALLOON RIDE FROM A CASTLE (PIEMONTE)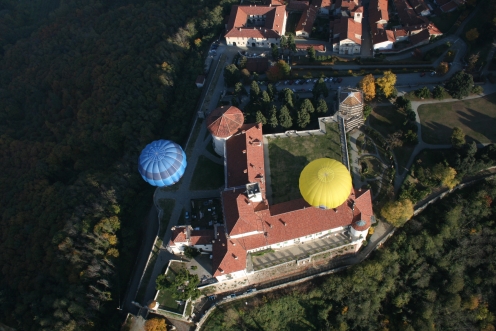 Masino castle - surrounded originally by walls and towers - is set in a monumental, romantic park dominating the Canavese plains. The interiors, with the halls frescoed and richly furnished in the 1600s-1700s, the Madama Reale apartments, the bedrooms for ambassadors and the separate salons all document the vicissitudes of a family that was one of the protagonists in the history of Piedmont and Italy itself. Take off from superb park of the castle.
How to book?
Telephone the number :(+39) 3398526950, (+39) 0165765525, (+39) 3470113717, with a few days notice (we have a list of recommended Hotels available).
Flight tickets

You can ask information about Flight ticket by sending us an
email
.
When is it possible to fly?
Every day - weather conditions permitting.
In the months of June - July - August - September : flights only in the morning with take off at 6.30 / 7.00am.
In the months of October - November - December - January - February : take off at 9.00am / 10.00am and in the afternoon.
In the months of March - April - May : morning flights with take off at 8.00am.

How long does a flight last?
A tourist flight lasts aprox. one hour, plus the necessary time for preparation and return to the base. In total aprox. three hours.


Is there an age limit?
8 years old ahd the kids must be mimimun 1,20 meters tall.

Who decides the route?
The route is decided by the wind. Every flight has different characteristics depending on it's chosen course.
Who will accompany you on this adventure?
The Aerostatique Mont Blanc Club is one of the largest hot-air balloon organisations. During the year out balloons fly all over Italy, Europe and different parts of the world. The pilots of our club, with their professionalism and experience, will accompany you on you enthusiastic flight.